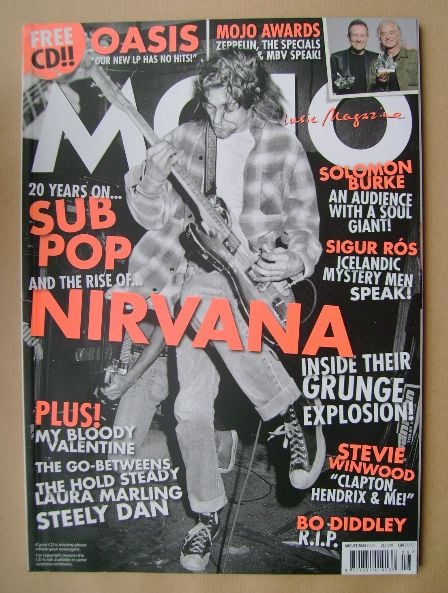 MOJO magazine - August 2008 (Issue 177)

£12.99
MOJO magazine Issue 177 - August 2008
Good condition

The free CD which was supplied with this magazine is not included
OASIS - Noel Gallagher unveils the new Oasis album
3 pages
SHE & HIM - 1 page
TRICKY - ¾ page
MADNESS - ½ page
MY BRIGHTEST DIAMOND - ½ page
WALTER BECKER - One half of the Steely Dan superbrain talks Dylan, psychology and the blues
1 page
PAUL HEATON - 1 page
SOLOMON BURKE - The King of Rock'n'Soul mixes sermon and stand-up to regale Geoff Brown with his life story, praising The Rolling Stones and smiting the President
5 pages
SIGUR ROS - David Sheppard meets the hushed'n'hopeful Icelandic foursome with their hoods off. "We only want to have fun," they explain

6 pages
BO DIDDLEY - Junkyard inventor, sound pioneer and sharp-dressed man, Bo Diddley left behind a gargantuan legacy that runs from Elvis Presley via The Rolling Stones and on to U2 and The White Stripes. Michael Hurtt, the last Mojo journalist to spend time with Bo, pays tribute to the man rightfully known as The Originator

6 pages
MOJO AWARDS - The Mojo Honours List
9 pages
STEVE WINWOOD - From the early '60s R&B grooves of the Spencer Davis Group and the pastoral psychedelia of Traffic to the organic dreamscapes of his solo work, Steve Winwood has had one of the most remarkable careers in British music. If only he could remember it. Mat Snow meets the well-preserved rock legend and jogs a few memories

5 pages
SUB POP - Eleven years after punk's tabula rasa, Sub Pop records led a riotous new noise insurgency that catapulted Kurt Cobain to superstardom and nearly destroyed the label itself. Now, 20 years on from the grunge explosion, members of Green River, Mudhoney, Soundgarden, Tad and Nirvana reconvene with SP founders Bruce Pavitt and Jonathan Poneman, and key players in the Seattle scene to bring you the inside story of "the little label that could and did"

12 pages
MUDHONEY - The elder statesmen of the Seattle scene, Mudhoney deflected any notion of success through drunken high jinks, bad habits and wry humour. Then came major label torpor, substance abuse and near-collapse. Twenty years on, they're still standing. Michael Azerrad joins them on tour to hear survivor's tale...

6 pages
THE HOLD STEADY - Album review
1¼ pages
BECK - Album review
1 page
GARY KEMP AND SPANDAU BALLET - "Hello Goodbye"
1 page