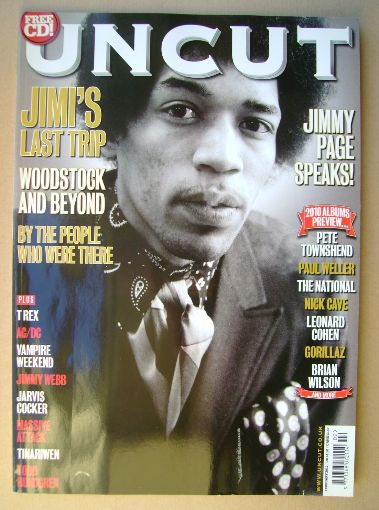 Uncut magazine - Jimi Hendrix cover (February 2010)

£13.99
Uncut magazine - Jimi Hendrix cover (February 2010)
Good condition - some light wear

The free CD which was supplied with this issue is not included
EZRA KOENIG (VAMPIRE WEEKEND) - 1 page
RACHEL UNTHANK - "My life in music"
1 page
JIMMY WEBB - 2 pages
THE RAIN PARADE - 1 page
JARVIS COCKER - The Pulp frontman explains his legendary charm and why happy songs make him "physically want to kill someone"
3 pages

MASSIVE ATTACK - The making of Unfinished Sympathy
3 pages
JIMMY PAGE - "I want to get out there and do what I do best!" - a revealing new interview with the Led Zeppelin legend

4 pages
JIMI HENDRIX - The truly astonishing story of the guitar god's final year, as told by those closest to him...
11 pages
TINARIWEN - The superstars of desert rock'n'roll reveal the truth behind the rebel mythology
4 pages
MARC BOLAN - Forty years ago this month, Marc Bolan was nothing more than a sweet hippy folk singer hanging out in the orbit of David Bowie. By the end of 1970, however, he had transformed himself into a glam-rock titan. Uncut talks to the key witnesses of this rapid, magical - and ruthless - rebirth
4 pages
TODD RUNDGREN - "Album by album"
3 pages
AC/DC - "Flashback"
The band in blistering form on their 1979/80 Highway To Hell UK tour...
4 pages

VAMPIRE WEEKEND - Album review
2 pages
PETER GABRIEL - Album review
1 page
THE SEARCHERS - 1 page