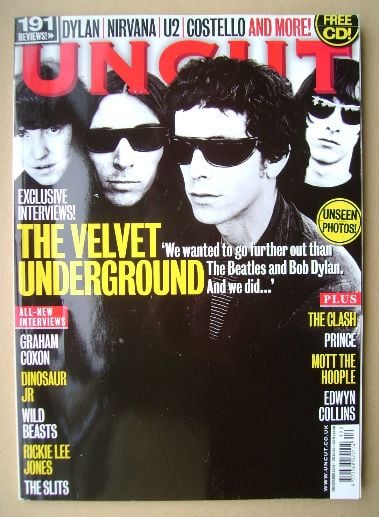 Uncut magazine - The Velvet Underground cover (December 2009)

£12.99
Uncut magazine - The Velvet Underground cover (December 2009)
Good condition - some light wear

The free CD which was supplied with this issue is not included
MOTT THE HOOPLE - 2½ pages
GEOFF BARROW - "My life in music"
1 page

JOOLS HOLLAND - 1 page
EDWYN COLLINS - 2 pages
ROWLAND S HOWARD - 1 page
KRIS KRISTOFFERSON - 3 pages

FREAK SCENE - "The making of..." by Dinosaur Jr
3 pages
GRAHAM COXON - With Blur's reunion well underway, the odd-one-out comes clean about his troubled past and his private sketchpad
4 pages
PRINCE - Twenty-five years ago, Prince knew he was a genius. The rest of the world, however, needed a little convincing. How to change this? Teach your band and friends how to act, hire a rookie director who can "tell my life story in 10 minutes", and convince Hollywood to bankroll a musical. The result? Purple Rain. A film that grossed $70 million, an album that sold 20 million copies, and the greatest triumph of one of rock's true superstars. This is the inside story...
5 pages
THE VELVET UNDERGROUND - With new interviews and unseen photos, we chart the group's incredible ascent from artrock outsiders to the most influential band of all time. "We were basically uncontrollable," admits John Cale
12 pages
WILD BEASTS - The brilliant Lake District band on the perils of being "northern and intelligent..."
3 pages

RICKIE LEE JONES - "Album by album"
3 pages
THE SLITS - 4 pages

VIVE LE PUNK! - "Flashback: Great rock moments revisited"
Mont de Marsan Festival, 5-6 August, 1977
4 pages
NORAH JONES - Album review
2 pages
MARK EITZEL - Album review
1 page
DAVE RAWLINGS MACHINE - Album review
1 page
GUY CLARK - 1 page