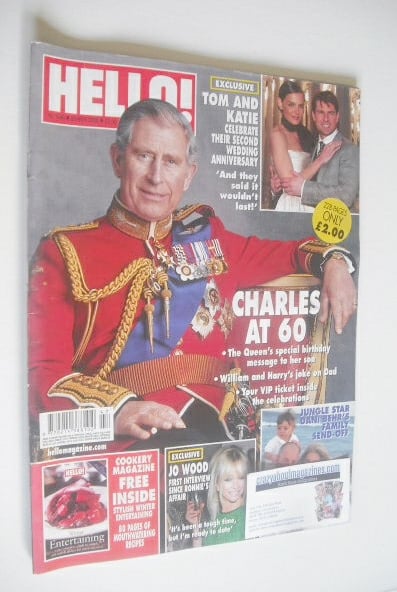 Hello! magazine - Prince Charles cover (25 November 2008 - Issue 1048)

£4.99
Hello! magazine Issue 1048 - Prince Charles cover (25 November 2008)
Fair condition - magazine has been read - there is age wear to front an rear cover

"Winter Entertaining guide" cookery guide is NOT included
JO WOOD Exclusive interview - reveals why life after Ronnie is rolling along so beautifully
4 pages
GUY RITCHIE Is reunited with his sons for the first time since the announcement of his divorce
1 page photos
DAVID BECKHAM AND SON BROOKLYN Courtside seats as they watch their favourite basketball team
1 page photos
ROD STEWART AND PENNY LANCASTER Keep a handle on son Alastair on a family break in France
1 page photos (one photo of Penny, two photos of Rod, two photos of Alastair)
DANI BEHR Talks about her hopes for life during - and after - her Aussie jungle adventure
5 pages
NICOLE KIDMAN Shows off black/white photo of baby Sunday Rose and speaks frankly of life with her famous ex
2 pages
JENNIFER ANISTON Speaks for the first time about Angelina - "What she did was very uncool"
1 page
PRINCE WILLIAM Pays tribute to his friends at the Cenotaph
3 page Remembrance Sunday feature
PRINCE CHARLES AND CAMILLA Joins Nicolas Sarkozy and Carla Bruni Sarkozy in France for the 90th anniversary of Armistice Day
2 pages
CRUZ BECKHAM Dedicated follower of fashion in LA
1 page photos (includes one photo with mum Victoria Beckham)
NATALIA VODIANOVA Sending temperatures soaring on Brazil 's famous beach
1 page photos
RUSSELL WATSON Opening the doors to his luxury home - tells how the love of his daughters helped him cheat death - not once but twice
5 pages
DAVID FURNISH On a flying visit to his native Toronto , Sir Elton John's partner reveals the happy home truths about their relationship
Approx. one page feature (split between two pages)
LOUISE REDKNAPP AND JAMIE REDKNAPP Eternally grateful for new baby Beau
Half-page announcement feature (no baby photos)
ROBBIE WILLIAMS Enjoys the ups and downs of high-profile love
Three-quarter page photo feature
TOM CRUISE AND KATIE HOLMES Celebrating their second wedding anniversary - proving the cynics wrong - and we exclusively reveal the secret of their success
5 pages (further Tom and Katie's wedding recipes in the Hello! entertaining guide supplied with this magazine - as detailed above)
BARACK OBAMA Gets a taste of life at the White House as he prepares for his presidency
1½ page photos
SANDY MEYER-WOLDEN Opens up about her split with Boris Becker
1 page
RYAN O'NEAL AND SON REDMOND Side-by-side in court
1 page photos
JAMES BLUNT Love, love, loves his island home and the celebrity home
2 pages
PRINCE CHARLES At 60 - Portrait of a Prince
As the Prince of Wales celebrates his landmark birthday with close family, showbiz friends and Royal relatives, we see why he is facing the future with unprecedented optimism
21 pages
CAMILLA DALLERUP Gives her dancing shoes a rest in the name of fashion
2 pages
MARTIN SHAW Counts his blessings as he faces up to the forces of evil
1½ pages
DALLAS Reunion - the stars of Dallas took a trip down memory lane last week when they reunited at the Ewing family mansion to celebrate the drama series' 30th anniversary
Very small feature (approx. one-quarter of a page with cast photo)
I'M A CELEBRITY... GET ME OUT OF HERE!
As the latest series kicks off, who's got what it takes to survive the tensions in the camp?
2 page feature
JULIO IGLESIAS And partner Miranda Rijnsburger - first photos with his eighth child Guillermo - touching family portraits at their home in the Dominican Republic
4 pages
ENRIQUE IGLESIAS Sings the praises of love Anna Kournikova as he talks love, life and lyrics
3 pages
CLARIDGE'S BAR CELEBRATES ITS 10TH ANNIVERSARY - 2 page celebrity photos
Includes large photo of: Pippa Middleton & Simon Yongman; half-page photo of Rod Stewart, daughter Kimberly and wife Penny Lancaster)
VERSACE - 5 pages of beautiful designer dresses
DALE WINTON - 1 page Q&A feature