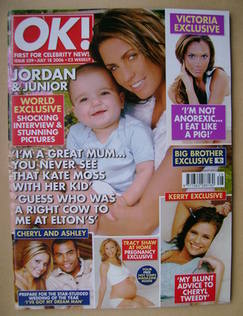 OK! magazine - Jordan and Junior cover (18 July 2006 - Issue 529)

£15.99
OK! magazine Issue 529 - Jordan and Junior cover (18 July 2006)
Good condition

Hot Stars supplement is also included
LINDSAY LOHAN - Star celebrates her 20th in three different cozzies
2 pages
BIG BROTHER - 3 pages
PAMELA ANDERSON - 1 page
KATE HUDSON - 2 pages
CHERYL TWEEDY AND ASHLEY COLE - 1 page
NADINE COYLE AND JESSE METCALFE - Singer and Jesse go house-hunting in Los Angeles
1 page
GWEN STEFANI AND GAVIN ROSSDALE - 1 page
JAIME PRESSLY - The My Name Is Earl babe talks babies and why some models should stick to their day jobs!
4½ pages

JORDAN - OK! speaks to the proud mum about her eventful year

9 pages

PARIS FASHION WEEK - 6 pages
PAMELA ANDERSON AND KID ROCK - ¾ page
VICTORIA BECKHAM - OK! looks back at Posh's ten glorious years as a trend-setting fashion icon
6 pages
SOAP BABES IN TOYLAND! - Ctching up in Disneyland Paris, Adele Silva, Sammy Winward and Vicky Binns reunite for thrills and a good old girlie gossip

5 pages
BROS - ¾ page
LUKE PERRY - ½ page
JASON PRIESTLEY - ½ page
NEW KIDS ON THE BLOCK - ½ page
TRACY SHAW - The reformed star invites us into her home as she looks forward to the arrival of her second son
6½ pages
PARIS HILTON - The society queen hits the town with OK! and spills all about her feuds, fellas and fame!

5½ pages
BRITNEY SPEARS - ¾ page
LUCY RUSEDSKI - The tennis wife talks about her bouncing baby girl and upsetting hubby Greg!
5 pages

CURTIS STIGERS AND PENNY SMITH - After their memorable turn on Just The Two Of Us, the two stars reunite at Galvin at Windows
2½ pages
TERRI DWYER on drinking like a student and idolising Kevin Spacey...

1 page
Hot Stars supplement:
- Diana Ross (2 pages)
- Lindsay Lohan (3¾ pages)
- Beyonce Knowles and Jay-Z (2 pages)
- LeAnn Rimes (½ page)
- Jemima Rooper (1½ pages)