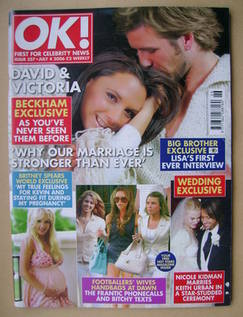 OK! magazine - David and Victoria Beckham cover (4 July 2006 - Issue 527)

£15.99
OK! magazine Issue 527 - David and Victoria Beckham cover (4 July 2006)
Good condition - crease to front cover

Hot Stars supplement is also included
BIG BROTHER - 2 pages
CATHERINE ZETA JONES AND MICHAEL DOUGLAS - 1 page
JUDE LAW AND SIENNA MILLER - 1 page
NICOLE KIDMAN - Superstars fly in for Hollywood beauty's wedding in her native Australia
3 pages
GWEN STEFANI AND GAVIN ROSSDALE - 1 page
KATE MOSS - 2 pages
MISCHA BARTON AND NICOLE RICHIE - 2 pages
JADE GOODY - Star gets raunchy at the launch of her perfume
1 page

ORLANDO BLOOM - The swashbuckling star talks about loving his leading ladies and missing Marmite on toast!
4½ pages

VICTORIA BECKHAM AND DAVID BECKHAM - The star couple say they're more loved-up than ever as they share the secrets of their marriage
8 pages
BRITNEY SPEARS - World exclusive interview and pictures
The expectant mum says she's fit and healthy - and that her and Kevin are happier than ever

8 pages
CHARLOTTE CHURCH - The feisty star clears up all the stories on spats with Gavin, pregnancy and her feud with Cheryl Tweedy
6½ pages
WORLD CUP WAGS - As the England team battle for World Cup glory their wives and girlfriends go on the attack!
5 pages
JENNIFER ANISTON - The star breaks her silence over Brangelina and her relationship with Vince
5 pages
ANDY WHYMENT AND NICHOLA WILLIS - The Coronation Street star reveals his sneaky proposal to the girl who wants to take a dog down the aisle!

7½ pages
COLIN FARRELL - ¾ page
ROBBIE WILLIAMS - ½ page
JARED LETO - ½ page
GEORGE CLOONEY - 1 page
STEVE JONES - 1 page
ANNA KOURNIKOVA - Netting gorgeous Enrique is not the only reason why life is smashing for the blonde bombshell
3½ pages
VERITY RUSHWORTH - The Emmerdale star has no plans to leave the hit soap, despite dreaming of her explosive downfall!
6 pages

CHRISTINE STEPHEN-DALY AND TJ RAMINI - The two stars talk about their top of The Bill love affair over lunch at The Light House
2½ pages
DAVID SEAMAN on kissing Gazza and refusing to wear pink!

1 page
Hot Stars supplement:
- Reese Witherspoon (2 pages)
- Alan Carr (4 pages)
- Nicole Kidman (1¾ pages)
- Cheryl Tweedy (½ page)