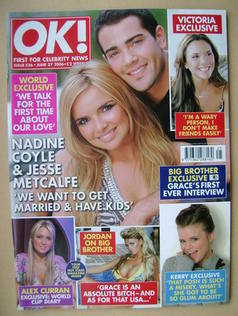 OK! magazine - Nadine Coyle and Jesse Metcalfe cover (27 June 2006 - Issue 526)

£15.99
OK! magazine Issue 526 - Nadine Coyle and Jesse Metcalfe cover (27 June 2006)
Good condition

Hot Stars supplement is also included
BIG BROTHER - 3 pages
KATE MOSS - 2 pages
GWEN STEFANI AND GAVIN ROSSDALE - 1 page
DENISE RICHARDS - 1 page
JENNIFER LOPEZ AND MARC ANTHONY - 1 page
KERRY KATONA - 1 page
JENNIFER ANISTON - 1 page
CATHERINE ZETA JONES - 1 page

JOHNNY DEPP - The Pirates Of The Caribbean hunk talks about his dodgy French and his twisted fantasies!
5 pages

NADINE COYLE AND JESSE METCALFE - In their first interview, the star couple reveal how they fell in love
11 pages
ALEX CURRAN - Steven Gerrard's fiancee says it's not all shopping, pampering and partying - honest!
5 pages
GEORGE CLOONEY - ¾ page
MIKAEL SILVESTRE - The Frenchman says he has no problem knocking Wayne and co out of the cup!
4 pages
ELIZABETH TAYLOR - OK! looks back at the life of the living legend who insists: 'I don't plan on dying!'
4 pages
NICK LACHEY - The hunky singer reveals his heartbreak following his split from wife Jessica Simpson
5½ pages
MELINDA MESSENGER - The bubbly blonde has a blast dressing up - and gives Grace from Big Brother a dressing down!
6 pages
NYLON - The Icelandic pop starlets talk about thrashing Robbie Williams over lunch at L-Restaurant!
2½ pages
BRIAN DOWLING on kissing Vernon and fruit fights!

1 page
Hot Stars supplement:
- Jessica Simpson (2 pages)
- Teri Hatcher (2 pages)
- Colin McAllister and Justin Ryan (4 pages)
- Shayne Ward (2 pages)
- Rachel Bilson (½ page)
- Lauren Laverne (1½ pages)