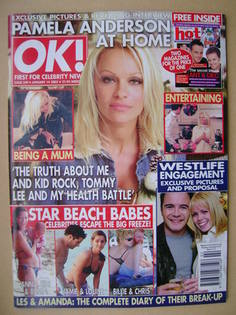 OK! magazine - Pamela Anderson cover (14 January 2003 - Issue 349)

£15.99
OK! magazine Issue 349 - Pamela Anderson cover (14 January 2003)
Good condition

Hot Stars supplement is also included
SHANE FILAN AND NICKY BYRNE - Westlife stars' Christmas proposal to the queens of their hearts
2 pages
HOLLY VALANCE opens Harrods sale
1 page
LES DENNIS AND AMANDA HOLDEN - OK!'s intimate diary of media mayhem as the couple announce their split
4 pages
VICTORIA BECKHAM - 1 page
KYM MARSH - 1 page
ABS (FIVE) - 1 page

JENNIFER ELLISON - 1 page
KEIRA KNIGHTLEY - 1 page
AMY ACKER - 1 page
JULIEN MACDONALD - 1 page
SOPHIE DAHL - 1 page
CHARLIE BROOKS - 1 page
ROSIE MARCEL - 1 page
VERA WANG - 1 page
EVA MENDES - 1 page
PAMELA ANDERSON - At her Malibu beach house, the devoted mum celebrates at home with her beloved family

8 pages
FAMILY AFFAIRS IN LAPLAND

- Charnham's feisty femme fatales hot up for OK!'s camera - despite the freezing temperatures!
Featuring Anna Acton, Ebony Thomas, Angelina Hazeldine
5 pages
PHILIP OLIVIER - The Brookside bad boy invites OK! into his new pad as he prepares to hot up our screens in 2003!
8 pages
BRITNEY SPEARS - 1½ pages
CHRISTINA AGUILERA - 1 page
KYLIE MINOGUE - 1 page
HOLLY VALANCE - 2 pages
HUGH GRANT AND SANDRA BULLOCK - The stars of Two Weeks Notice chat to OK! about screen chemistry and Hugh's Kama Sutra surprise...
5 pages
ANNA RYDER RICHARDSON - Mum's the word as the pregnant interior designer and her growing family enjoy the sun in Barbados
5 pages
ROSIE RIBBONS - From Pop Idol to singing star. Watch out Gareth and Will - the girl from Swansea is about to storm the charts!
4 pages
PREEYA KALIDAS AND RAZA JAFFREY - The young stars of the hit musical Bombay Dreams reveal all about working with Andrew Lloyd Webber over a magnificent Indian feast at Yatra
4 pages
CORONATION STREET - The stars of ITV1's hit soap head to Dublin for New Year
2 pages

Hot Stars supplement:
- David Sneddon (1½ pages)
- Robbie Williams (2 pages)
- Christina Aguilera (2 pages)
- Kylie Minogue (2 pages)
- Geri Halliwell (1 page)
- Kate Moss and Sadie Frost (2 pages)
- Beyonce Knowles (2 pages)
- Reese Witherspoon (2 pages)
- Ant and Dec (4 pages)
- Sarah Cawood (2 pages)
- Reef (½ page)
- Shane Filan (2 pages)