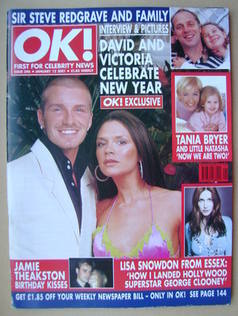 OK! magazine - David and Victoria Beckham cover (12 January 2001 - Issue 246)

£24.99
OK! magazine Issue 246 - David and Victoria Beckham cover (12 January 2001)
Good condition - some wear to spine

BRYAN FERRY AND JEMIMA KHAN - Veteran rock star and wife of Pakistani cricketing hero Imran Khan escape certain death on terror flight

2 pages
THE CORRS wow the crowds at Wembley as they kick off their national tour
1 page
JAMIE THEAKSTON'S 30TH BIRTHDAY PARTY - 2 pages
LISA SNOWDON - George Clooney's model girlfriend reveals her striking winter look

3 pages
TANIA BRYER - The TV presenter and OK! reporter celebrates the second birthday of daughter Natasha Joy with friends Anne Stewart and Lucy O'Donnell

4 pages
THE SPICE GIRLS AND FRIENDS - Mel B's message of hope for the New Year as she celebrates with David and Victoria Beckham and Ali G
13½ pages
TIM VINCENT - The handsome vet from Emmerdale talks about his reputation as a ladies' man

9 pages
CAROLINE QUENTIN - The actress tells how she has found new happiness with a man - and a new daughter - who know exactly how to behave
2 pages
PAUL O'GRADY - As Lily Savage returns with a new series of Blankety Blank, Paul O'Grady tells how showbiz success has saved his life...
2 pages
TAMARA ROJO - 2 pages

KIM BASINGER - Hollywood's golden girl overcame her schoolgirl shyness to win an Oscar for LA Confidential. Here she says her best role ever is that of a loving mother

2 pages
JOSIE WALKER - Playing a starring role in the latest Lloyd Webber West End hit musical was something Josie Walker had waited for all her life. But, as she reveals, The Beautiful Game covers ground that is all too familiar to her...

2 pages
STEVE REDGRAVE - In a special exclusive interview, Britain's greatest Olympian and his family take a well-earned break at the Walt Disney World Resort in Florida
7 pages
BO DEREK AND STEFANIE POWERS - The celebrity best friends invite OK! to Portugal to enjoy the annual Lusitano Horse Show
9½ pages
SAMANTHA SHAW - Kaja Wunder models the designer's stunning new collection at the Covent Garden Hotel in London

5 pages
ALEX LOVELL - OK! joins the Disney Channel presenter and her boyfriend Stephen as they enjoy a relaxing weekend at England's oldest inn, The Royalist
1½ pages
SARA COX - 2 pages
TARA PALMER-TOMKINSON - 2 pages