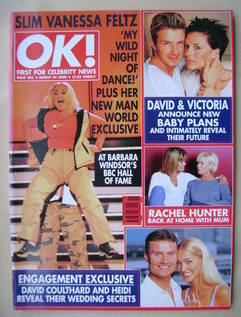 OK! magazine (24 March 2000 - Issue 205)

£24.99
OK! magazine Issue 205 (24 March 2000)
Good condition - some light wear

DAVID BECKHAM talks frankly about his passion for Man Utd and his plans for more children with Spice Girl wife Victoria

4 pages
MICHAEL OWEN AND GARY LINEKER - The England strikers past and present meet - and reveal their admiration for David Beckham

6 pages

DAVID COULTHARD - The motor-racing hero and his beautiful fiance, Heidi Wichlinski, tell OK! about their wedding plans

9 pages
BARRY NORMAN - The Sky Television movie critic reveals his Academy Awards secrets and gives his tips for Oscar glory

5 pages
ANNETTE BENING - She's nominated for Best Actress - but will the birth of her fourth child stop her from attending the Oscars?
5 pages
SARAH LANCASHIRE - With another starring role under her belt, Sarah Lancashire says she's finally laid Raquel to rest

1¼ pages
HELEN BAXENDALE - The Cold Feet star talks about her move on to the Hollywood big screen in Ordinary Decent Criminal

2 pages
SAVAGE GARDEN - 1 page

JUSTIN HAYWARD - As he prepares for a British tour, Justin Hayward, songwriter with the Moody Blues, tells OK! how he has managed to juggle pop stardom with family life for 30 years

1½ pages
RACHEL HUNTER - As she visits her mother's lovely New Zealand home, Rachel Hunter sets the record straight on her life with rock legend Rod Stewart and looks forward to her new career
11 pages
JO CAIN - The model and actress wears the latest spring looks, which hark back to the glamorous Fifties

6 pages
FRAZER HINES - Former Emmerdale heart-throb Frazer Hines and beautiful wife Liz Hobbs MBE take OK! on a tour of their farm

6 pages
KIM CATTRALL - The star of Sex And The City on life in the Big Apple, the city where she found true love and fame...
2¾ pages
JACKIE WOODBURNE - Celebrating the 15th anniversary of Neighbours, we join the actress who plays Susan Kennedy for a meal at Brown Brothers, near her Melbourne home
3½ pages
MADONNA - 1 page