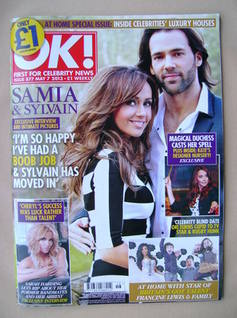 OK! magazine - Samia Ghadie and Sylvain Longchambon cover (7 May 2013 - Issue 877)

£14.99
OK! magazine - Samia Ghadie and Sylvain Longchambon cover (7 May 2013 - Issue 877)


New unread condition



CHESKA HULL

-

Made In Cheslea

star Cheska Hull joins her mum in Salcombe as she opens up to OK!'s Chrissie Reeves about her father's death, her mystery illness - and how she'd leave the show for her new man...
5 pages



THE DUKE AND DUCHESS OF CAMBRIDGE AND PRINCE HARRY

- As the Royal bump grows, the Duke and Duchess of Cambridge and Prince Harry celebrate Hogwarts-style
3 pages



SARAH HARDING

tells OK!'s Nicola Agius how she's coping with Girls Aloud's split - and reveals the truth behind her recent brush with the law
3 pages



KATY PERRY

on her unusual upbringing and how music is her therapy...
2 pages



SAMIA GHADIE AND SYLVAIN LONGCHAMBON

speak to OK!'s Phil Gould about setting up home together and Samia's decision to have a boob job
5 pages



LITTLE MIX

tell OK!'s Lizzy Price how their relationships have been affected by fame - and what they've been spending their pay cheques on
3 pages



SADIE FROST

tells OK!'s Annabel Zammit about battling postnatal depression, the Primrose Hill set and her cathartic passion
2 pages



CAPRICE

talks to OK!'s Chrissie Reeves about her hedonistic highs, shocking lows and serial killer fan...
3
pages



FRANCINE LEWIS

-

Britain's Got Talent

hopeful Francine Lewis tells OK!'s Nicola Agius why she disappeared from showbiz and how she doesn't mind upsetting the stars!
4 pages



FRANKIE DETTORI

speaks out about his

Celebrity Big Brother

therapy after his 'night of madness'
4 pages



SIAN WELBY AND MIKE PHILLIPS

- OK!'s Chrissie Reeves plays cupid as weather girl Sian Welby and rugby hunk Mike Phillips head out on a blind date...
3 pages



MYLEENE KLASS

on devoting herself to her new children's shoe collection and massaging Leonardo DiCaprio!

2

pages



COLEEN ROONEY

chats to OK!'s Rosie Underwood about her new kids' clothing range, her son's wardrobe obsession and health and safety issues!
2 pages



UNA HEALY AND BEN FODEN

take their adorable rugby babe Aoife to the big match!
1 page



JOANNE MATTHEWS AND BEATTIE EDMONDSON

- The sitcom stars join OK! at the Blues Kitchen to talk

Absolutely Fabulous

, the Spice Girls and famous former plumber boyfriends!
2 pages



MISHA B

- 1 page



TAMARA ECCLESTONE

- 1½ pages



TERENCE CONRAN

- "Icons of OK!"
2
pages
LINDSAY LOHAN
- OK! Classic interview, March 2010
Lindsay Lohan arrives two hours late but opens her heart


1 page