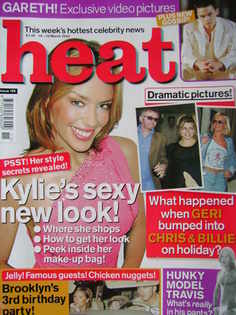 Heat magazine - Kylie Minogue cover (16-22 March 2002 - Issue 159)

£8.99
Heat magazine
- 16-22 March 2002 - Issue 159 - Kylie Minogue cover
Good condition
BROOKLYN BECKHAM - Brooklyn's 3rd birthday
4 pages
KYM MARSH AND JACK RYDER - Six months agao Kym Marsh and Jack Ryder were the new Posh and Becks. People couldn't get enough of them. But with her leaving Hear'say and him quitting EastEnders, what does the future hold?
4 pages
ALI G - He's the most outrageous figure in showbiz and is about to star in his first major blockbuster. In an exclusive interview, Ali G reveals all to Heat. (Warning: the easily offended should read no further.)
4 pages

JUDE LAW AND SADIE FROST

- "We're having another baby!"
2 pages



TRAVIS FIMMEL

- "It's not padding" insists Calvin Klein model

1
½
pages



JUDE LAW AND SADIE FROST

- What's life behind closed doors

really

like for the coolest couple in showbiz?
1 page



CHRIS EVANS AND BILLIE PIPER

- 2
pages



KYLIE MINOGUE

- Star style special
Vamped-up siren or dressed-down sex kitten, Kylie Minogue can work any look. We open up her make-up bag, take a look at some of her best fashion moments and show you how to steal her style
4 pages



SIMON COWELL

- Simon gets road rage
1
½ page
s



KATE WINSLET

- Mia helps mum Kate with the weekly shop
3 pages



NAOMI CAMPBELL

- 2 pages



KYLIE MINOGUE AND GISELE BUNDCHEN

- 1
½
pages



MEG MATTHEWS AND ANAIS GALLAGHER

- 3
page
s




GARETH GATES

- 1
½
pages


HEATHER GRAHAM

- "Steal her style"
½ page


BRITNEY SPEARS

- Britney can't stop biting her nails

½
page



SOPHIE ELLIS-BEXTOR

- Revealed: Sophie Ellis-Bextor's previous career
1
page


CHRIS BISSON

- "My favourite place"

1
page



RUSSELL CROWE

- Amazing picture exclusive!
Russell Crowe as a transvestite

½
page



SALLY PHILLIPS

-
½
page



SARAH JESSICA PARKER

-
½
page