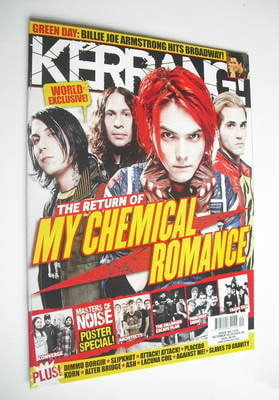 Kerrang magazine - My Chemical Romance cover (9 October 2010 - Issue 1333)

£19.99
Kerrang magazine - My Chemical Romance cover (9 October 2010 -
Issue 1333
)


New

unread condition




MY CHEMICAL ROMANCE

- "We wanted to f**k our world up"
Turmoil. Exhaustion. Loss of control and confidence.
The Black Parade all but killed My Chemical Romance. Then the band headed into the studio to make a new album, with one aim: To reject

everything

they had become.
And then they really lost it...
Part 1 of K!'s two-part world exclusive!

6 pages (the interview will continue in next week's issue of Kerrang)

PARKWAY DRIVE play homecoming show at Byron Bay High
2 pages
BLACK VEIL BRIDES - 1 page
BRING ME THE HORIZON - 1 page
PLACEBO - 2 pages
DIMMU BORGIR have weathered some dark days over the last few years. But armed with a new album and a new vision, the symphonic black metallers have nver been more optimistic about the future...
2 pages
ATTACK ATTACK! - Following the release of their new album The Latest Fashion, Attack! Attack! have got a shot at something special. Just don't ask them to 'fit in'...
2 pages
SLAVES TO GRAVITY - The last year has been a trying one for Slaves To Gravity, but frontman Tommy Gleeson can't let his band's hard work come to nothing...
2 pages
TIM WHEELER (ASH) - 'Road Rules'
1 page
THE DONOTS - After 17 years together The Donots are still nowhere near as successful as their friends in Green Day. Not that it's getting them down one bit...
1 page
TOM GABEL AND ANDREW SEWARD (AGAINST ME!) take the K! Quiz
1 page

Poster pages (Masters of Noise)
- The Dillinger Escape Plan
- Parkway Drive (double page)
- Converge (double page)
- Architects
- Trash Talk