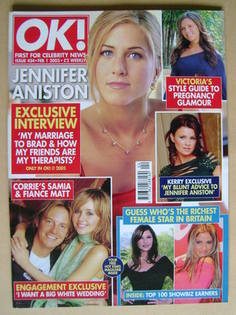 OK! magazine - Jennifer Aniston cover (1 February 2005 - Issue 454)

£15.99
Use our Out Of Stock Enquiry form to enquire when item is back in stock
OK! magazine Issue 454 - Jennifer Aniston cover (1 February 2005)
Excellent condition

Hot Stars supplement is also included
CHARLOTTE CHURCH - 2 pages
TESS DALY - 2 pages
BRITNEY SPEARS - Pop babe sparks yet more rumours of pregnancy as she shops for baby clothes
2 pages
DENISE VAN OUTEN - 1 page
CELEBRITY BIG BROTHER - 3 pages
NATALIE PORTMAN - The Hollywood princess says she was more than happy to take her clothes off for Clive Owen!
5½ pages
JENNIFER ANISTON - The broken-hearted actress opens up about the huge pressure Hollywood puts on celebrity couples
7 pages
SAMIA GHADIE - The Coronation Street star celebrates her engagement to romantic Matt
10 pages

VICTORIA BECKHAM - OK! reveals how Lady B always looks blooming marvellous when she's carrying a baby Beckham
6 pages

THE OK! RICH LIST - Which celebrities raked in the most cash in 2004?
20 pages
TIM VINCENT - The loved-up presenter reveals how he's made it big in the Big Apple
7½ pages
KELLI YOUNG - The Liberty X babe reveals all about Fran Cosgrave and her plans to act

6 pages
HAR MAR SUPERSTAR - The quirky stud joins bassist Jenni Tarma for lunch at Little Italy - and keeps his clothes on
2½ pages
Hot Stars supplement:
- Angelina Jolie (2 pages)
- Kenzie (1½ pages)
- Kevin Federline (2 pages)
- Geri Halliwell (4 pages)
- Britney Spears (1½ pages)
- Lemar (½ page)
- Kirsten Dunst (1 page)
- Jeremy Edwards (2 pages)
- Feeder (½ page)